I've been working on a full length solo release for over a year now.
There was snow on the ground last January, when I gathered together with my production team for a full run through of the album, and there's snow on the ground now as we finish up the final recording and mixing sessions. Somewhere along the way, there were tree buds and flowers and green leaves, 90-degree summer days, thunderstorms, sunshine, clouds, early mornings and late nights and a whole lot of hard work.
It's been the busiest, most difficult, most exhausting, most frustrating, most rewarding, happiest year of my professional life. I'm absolutely thrilled that we're nearing the end of this process so that I can finally share what we've been working on with all of you, but in a way it's also sad, and a little scary, to move on to the next step.
But don't worry, there's still a lot of work to do. We aren't there quite yet. So while you wait, here's a few snapshots of what life's been like for us over the past 365 days, String Sessions Edition.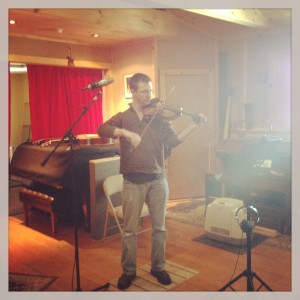 {Geoff Roman rocking out some Irish fiddle.}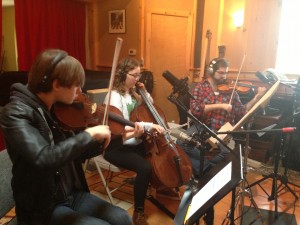 {Evan, Christine, and Zach on viola, cello, and violin}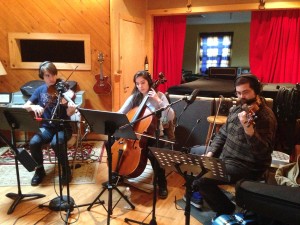 {Evan, Diana, and Zach on viola, cello, and violin.}