January 23, 2015 | 6:00PM – 8:30PM
at The NAMM Show
Anaheim Hilton Hotel Pacific Ballroom – Anaheim, CA
For more information and tickets, please visit http://www.thewimn.com/events/she-rocks-awards/
I'll be performing in the house band alongside The Bangles, Colbie Caillat, orianthi, Mindi Abair, Gretchen Menn, Angeline Saris, Clementine, SHEL, and more!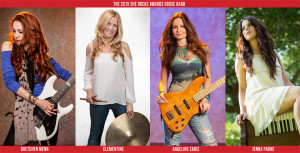 Gearing up for its third consecutive year, the She Rocks Awards pays tribute to women who display leadership and stand out within the music industry, and has become a standard at the NAMM Show. Previous award recipients include female industry leaders Sheila E, Orianthi, Dinah Gretsch, Janie L. Hendrix, Mary Peavey and more. Click here to view all previous She Rocks Award winners.
With featured performances, food and beverages, giveaways, a silent auction, networking opportunities and more, the She Rocks Awards brings together industry professionals, music icons, artists, fans and media to celebrate women in music. This year, the event will be co-hosted by platinum-selling guitar phenomenon Orianthi. And yes, men are welcome too!