It's been cold here in Boston…I mean, REALLY cold. Yes, I've lived here my whole life and should be used to it, but doesn't the chill feel just a little bit unnecessary to anyone else? I thought so.
Despite that, it's been another banner week. Samm Bahman and I kicked things off on Monday night with an awesome night of music at the Lizard Lounge Open Mic Challenge. For those of you who don't know the Lizard Lounge, it's a warm, intimate venue in Cambridge and the perfect place to listen to some thought-provoking music from twenty of your closest friends. Ringmaster Tom Bianchi is just about the nicest guy you'll meet and a fabulous (and funny) host. We heard a lot of great musicians, and were thrilled that super secret special guests (and local powerhouses) Ryan Montbleau and Tall Heights dropped by to play a few sets. And the kicker for the evening? Samm and I actually won the open mic competition! Judge for the Night Aerica Lauren chose us as her favorite act, which really made us feel special. We can't wait to go back and see the gang again!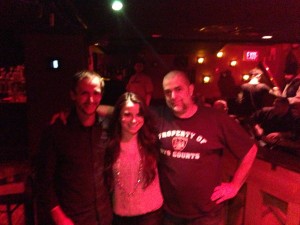 Samm and I with Tom Bianchi after our win!
The phenomenal Ryan Montbleau tearing up the stage!
I've also been back in the studio (of course), working on the remaining pieces of the solo album. This week, we worked out background harmonies, arranged string and horn parts, laid down some extra guitar parts, and more! It's been such a long process, but we're almost in the clear, and it's amazing to see how it's all coming together.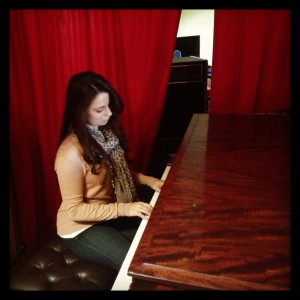 Working out some string parts at the piano.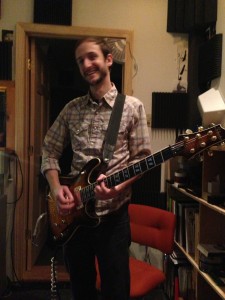 Samm apparently thinks recording guitar is hilarious.
We topped off the week with some more video shoots for some of my original tunes, and this time we filmed in a beautiful dance studio! Samm is a great amateur filmmaker as well as a phenomenal guitarist, and he's willing to go to some "tall heights" of his own to get the right shots.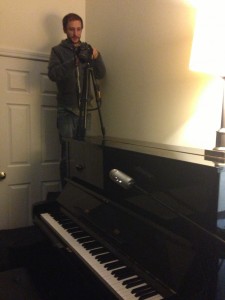 Setting up an aerial shot – fancy!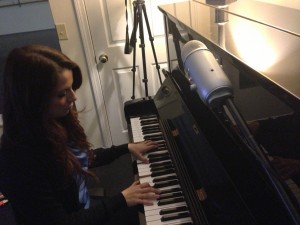 Warming up for the big shoot.
Looking forward to sharing them with you soon – oh, and Happy Veteran's Day, everyone! Thank you to all of those who serve and have served our country.